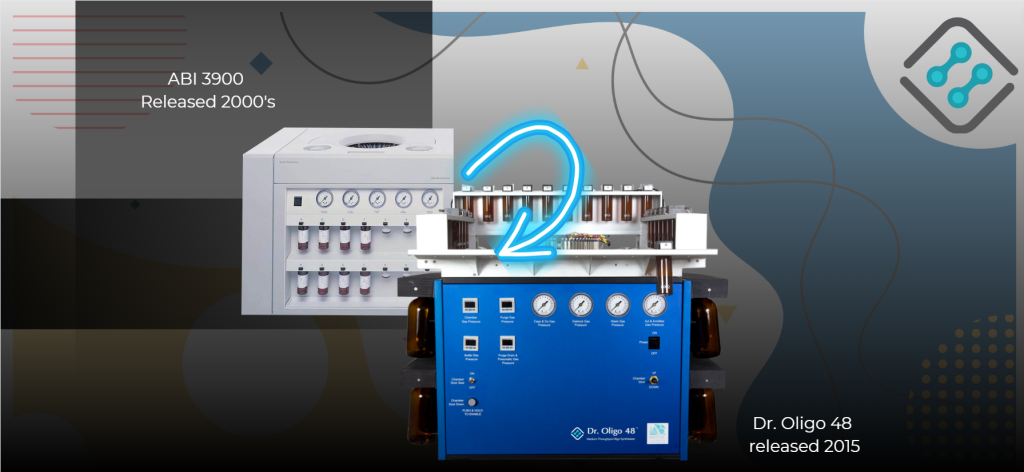 In the dynamic world of genomic research, diagnostics, and therapeutics, oligonucleotide synthesis is a cornerstone of advancement. To truly unlock your research potential, it's essential to harness the capabilities of modern oligo synthesis technologies. The pivotal moment to elevate your research has arrived – it's time to upgrade your legacy ABI 3900 instrument.
Why Should You Upgrade?
Save Time with Guaranteed In-Stock Replacement Parts: Bid farewell to downtime spent waiting for hard-to-find, obsolete parts. Our upgraded solution ensures you always have access to readily available replacement components.
Modern Service by Expert Engineers: Experience a rapid turnaround with our team of experienced engineers. The result? Less time spent on maintenance, more time dedicated to research. Our prompt technical support and troubleshooting are always at your disposal.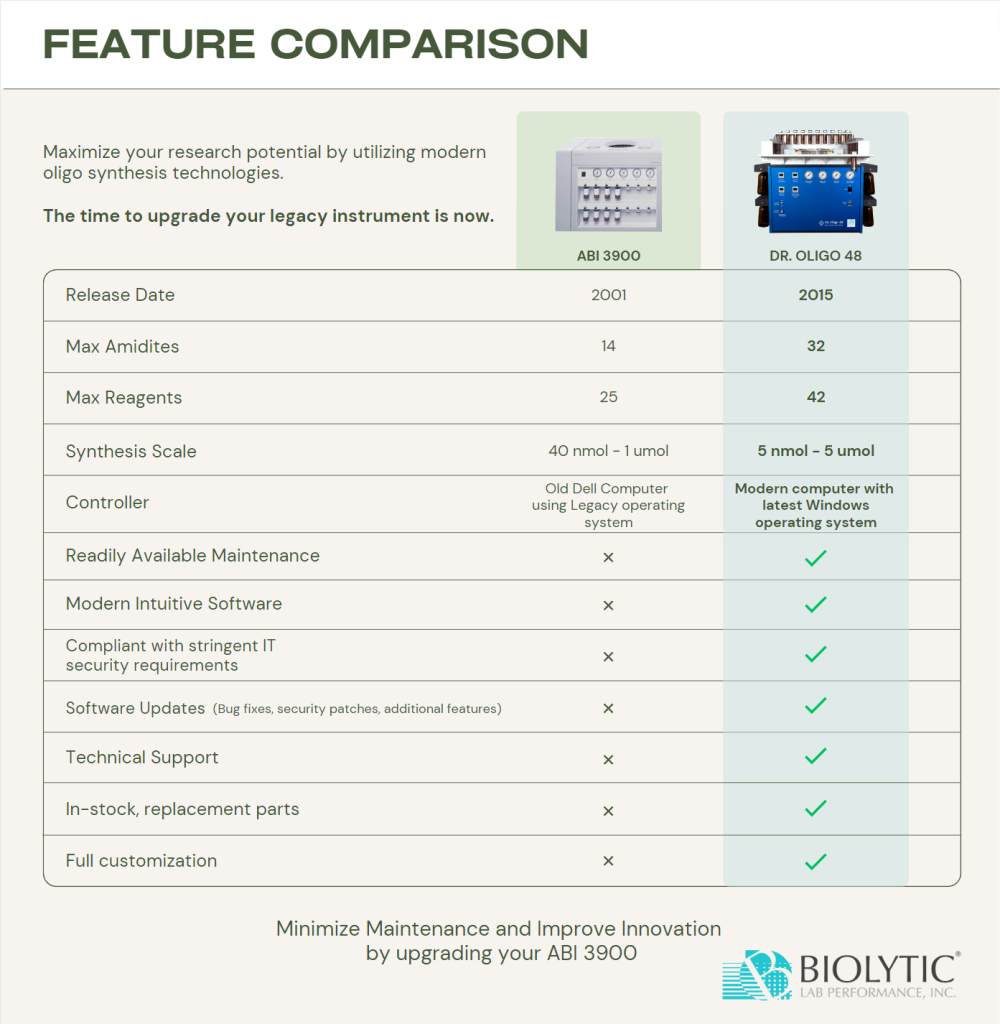 Save Costs with Smart Choices:
In-Stock, Common Parts: We understand that time and resources are precious. With in-stock, common parts, you're assured of streamlined repairs and minimized interruptions.
Modern Features for Cost Optimization: Our modern features are designed to optimize reagent and gas usage, leading to reduced waste and cost-effectiveness. Expect less frequent, lower-cost maintenance for your upgraded instrument.
Embrace Modern Innovation:

Advanced Software for Enhanced Control: Say hello to modern intuitive software running on the latest Windows PC. Automated hardware and synthesis monitoring ensure fewer errors and enhanced safety. Fine-tune synthesis parameters for optimal results, all while benefiting from a user-friendly interface.
42 Reagents for Unmatched Versatility: With 42 total reagents at your disposal, you can synthesize oligos as simple or complex as your research demands. Parallel sequencing of different types of oligos is now a reality with our four banks of twelve oligos each.
Synthesis Consumables Readily Available: Expect smooth sailing when it comes to running oligo synthesis. Our full range of synthesis consumables is readily available, ensuring you're well-equipped to face any research challenge.
How to Make the Transition:
Expert Guidance from Experienced Sales Reps: Our sales representatives boast over 30 years of oligo synthesis experience. Rest assured, they're equipped to guide you seamlessly through the transition process.
Familiar Workflow, Enhanced Features: Transitioning to Dr. Oligo 48 is straightforward. While the workflow remains familiar, the added modern features are tailored to meet the demands of contemporary research.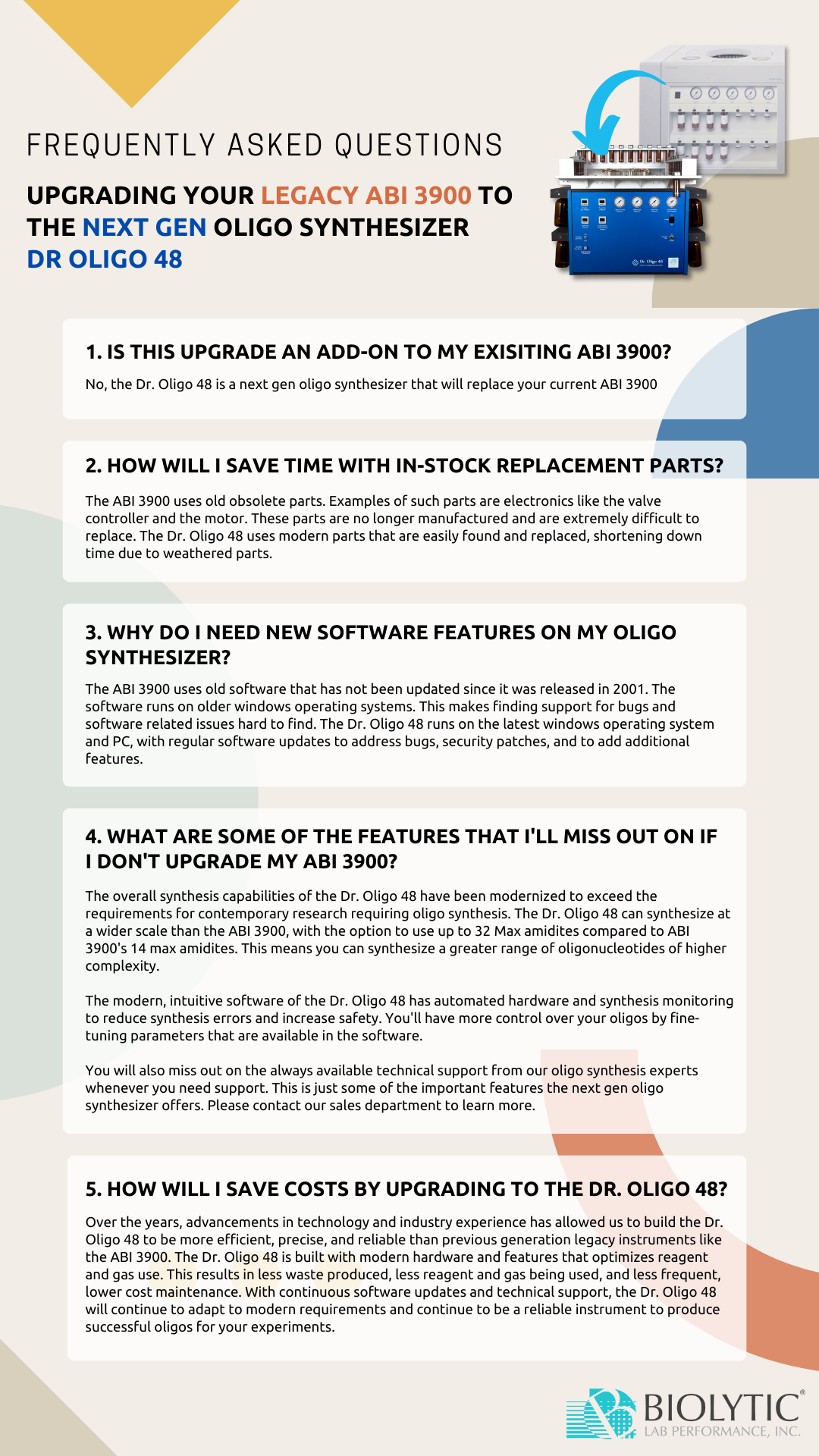 ---
Minimize Maintenance. Maximize Innovation. With the Dr. Oligo 48, you're not just upgrading your instrument – you're revolutionizing your research potential. Embrace the power of modern technology and redefine what's possible within your lab. Trusted by companies worldwide, the Dr. Oligo 48 is the pinnacle of oligo synthesizers, designed to empower laboratories across the globe.
Find more information about the Dr. Oligo 48 here:
Or talk to one of our Sales representatives to see how your lab can transition from an ABI 3900 to the Dr. Oligo 48 here: