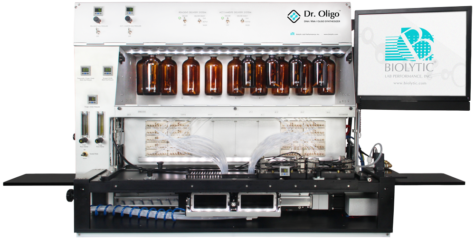 Fremont, California – Biolytic Lab Performance, Inc. unveiled Dr. Oligo 192XLc High Throughput Oligo Synthesizer, the newest addition to the Dr. Oligo platform. Offering versatile synthesis capabilities with plates or columns, high-quality custom oligo synthesis experiences at a low reagent consumption rate, and customization for coupling and oxidizing. Synthesize the way you want.
Synthesize 192 oligos with 96-well plates, and individual columns.
With the demand for custom oligos expanding over time, the new Dr. Oligo 192XLcOligo Synthesizer supports up to 37 specials and 10 standard reagents. Beyond creating your special oligos, we designed the Dr. Oligo 192XLc to fit in different laboratory and production facilities' needs, with the ability to utilize 96-well plates and individual columns, synthesizing up to 192 high-quality oligos in one run, up to 3µmol scale.
Features
The Dr. Oligo 192XLc Synthesizer deliver an advanced synthesis experience in your R&D lab and high throughput production facilities, designed with versatile synthesis capabilities, precise reagent delivery to every well, and our novel patent pending mixing system.
– Synthesize 1 to 192 oligos in a run, with up to 37 total reagents (27 specials and 10 standards) and up to 5 µmol scale per
column, with your choice of synthesis plates or columns
– Extremely efficient mixing or recycling of any reagent dispensed into each well using our patent pending in situ mixing
system
– The entire volume of reagent delivered to each reaction well is thoroughly mixed with the synthesis media resulting in
optimal use of all reagent delivered
– Minimize the volume of each reagent needed to achieve near 100% reaction efficiency
– Custom Biolytic valves provide faster, more consistent response times and fill with less volume thus reducing waste
– Newly designed dispense nozzles maintain desired delivery volumes and minimize the chances of reagents dripping or
drying out
– Individual plate-sized synthesis chambers result in more precise pressurization and control of reagents flowing through
reaction wells
– Smaller synthesis chambers (one for each 96-well plate or columns) reduce gas consumption
– Dispense 8 or more nozzles simultaneously with an accuracy down to 2 µl [1]
– Automatic nozzle washing at the end of a synthesis if desired
– High speed closed loop motion system.
– On demand Auto Reprime of Amidite Nozzles
About Biolytic
Founded in 1993, Biolytic® Lab Performance, Inc. designs and manufactures the most advanced oligo synthesizers and related lab accessories in the world. Over 25 years of experience in end-to-end synthesis solutions and equipment coupled with their extensive knowledge, and world-class customer support allowing Biolytic to continuously lead in the oligo synthesis industry.
Contact
James Demmitt, Biolytic Lab Performance, Inc.
Senior Vice President of Marketing
JamesDemmitt[at]biolytic[dot]com
+1 510-795-1142
For more information please visit www.biolytic.com