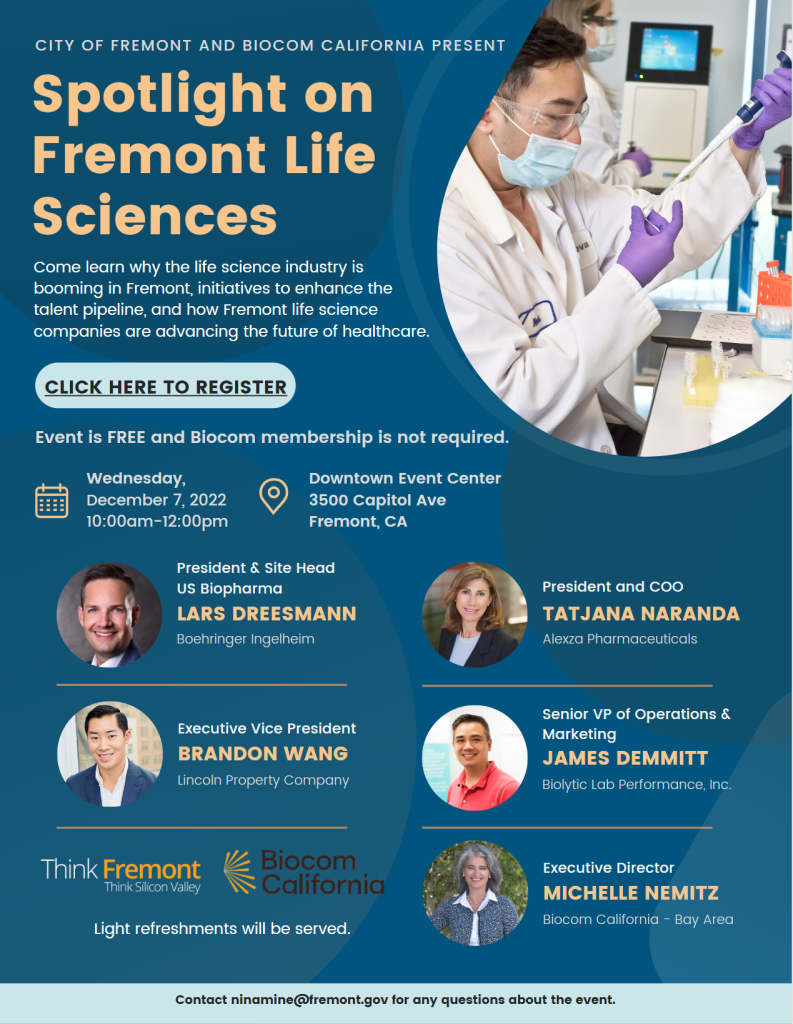 Join Biocom California and the City of Fremont on December 7th to hear from a panel of industry leaders on why life science is booming in Fremont, initiatives to recruit local talent, the industry's evolution, and how companies in Fremont will contribute to future life science growth in the Bay Area.
This year, Biolytic will be participating in this event. James Demmitt, Senior VP of Operations & Marketing, will be speaking about our impact on the biotech industry. Representatives from the City of Fremont visited the Fremont Biolytic Headquarters and wrote about their experience. We want to thank everyone who helped in this event.
An excerpt from the City of Fremont's article:
Who's Dr. Oligo?

The Economic Development team recently had the opportunity to visit Biolytic Lab Performance, Inc., a Fremont biotech company that specializes in end-to-end oligonucleotide synthesis solutions. The aptly named Dr. Oligo Synthesizer is a compact yet impressive machine that harnesses solid phase synthesis to create DNA and RNA, which biopharmaceutical companies use to run R&D trials or scale up their drug and vaccine development efficiently. The use of oligos can be seen far and wide in the life science realm, including applications in drug and vaccine development, genetic test kits, and diagnostic research. This technology, designed and manufacturing in Fremont, is critical to the production of mRNA vaccines, including for COVID-19.

James Demmitt, Senior VP of Operations and whose father began the company out of his garage à la Silicon Valley, underscored a local supply chain as one of their greatest values and strengths. From the beginning, Biolytic leveraged the robust supply chain in Fremont and the surrounding region to manufacture Dr. Oligo synthesizers. Biolytic has doubled their employee base during the pandemic and have been able to keep intact the quality, reliability, and availability of their products. During the site visit, the ED犀利士 team was thoroughly impressed at the capacity and versatility of these machines, standing at just a few feet tall and wide. Biolytic is just one of two companies in the US that produces a synthesizer of similar capacity. Biolytic Lab Performance, Inc. is a testament to Fremont's strong base of life science companies and ecosystem of suppliers that support biopharmaceutical development and biomedical innovation.